Memorial Day Ceremony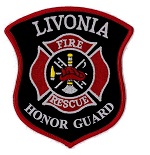 Memorial Day Celebration
The City of Livonia will celebrate Memorial Day at 9 a.m. Saturday, May 27, at Veterans Memorial Plaza, Farmington and Five Mile. Join the Livonia Fire Honor Guard in paying homage to those who gave their lives in service defending our nation.
The event, hosted by American Legion Post #32, will be led by Master of Ceremonies U.S. Army Brigadier General Miles Davis of Livonia. The Keynote Speaker will be U.S. Navy Senior Chief Frederick J. Foster (retired). The ceremony will also honor the 2016 Veteran of the Year, Dan Newton (American Legion Post #32).
Music will be provided by the Clarenceville High School Marching Band under the direction of Christopher Kuhn and Livonia Civic Chorus under the direction of Jeff Swan.
See you there!
Passport to Safety Event
Saturday, June 17, 2017 from 10am-2pm
Come learn how to be safe. It's fun and informative.
Get you Passport stamped and get FREE stuff!
at the Livonia Police & Fire Station Number #1
15050 Farmington Rd, Livonia, MI 48154
Learn how to be safe while having fun
Please check back before the event as this site is still being updated
See: Sparky the Fire Dog, Freddie the Fire Truck, Click-it-Cricket, McGruff the Crime Dog ...and get free stuff !
http://livoniapassporttosafety.com/